The Afterlife Saga
A brooding King, a girl running from her past. What happens when the two collide? Addictively Dark and Seductively Sexy. Dramatic and full of Suspense that will have you guess at every turn.
Keira is new in town and running from her past. A past that haunts her dreams, that is until a new nightmare takes over them…a tall, dark and sexy one.
Her New Boss, Dominic Draven.
What Is
Afterlife?
Afterlife is a demon king paranormal romance.
A demon king paranormal romance
12 Books in the Collection
Dramatic and full of suspense
Epic love story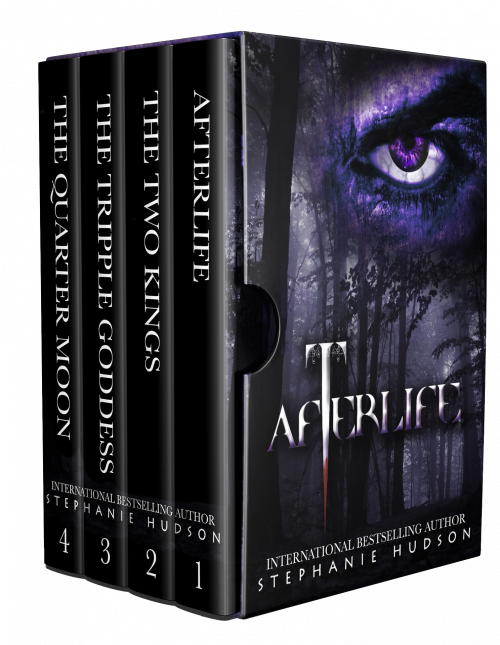 Testimonials
I love these types of stories that grab me until they are done and I can't sleep until I've seen the end.
A book you can't put down. Stephanie Hudson's books are amazing. I fell in love with her books with Book 1 and have read each book at least 2 times. I can not wait for her next book.
The ending we all hoped for! I'm sad to end this amazing story..tho we know it isn't truly over! I can't wait to find out the next part of this amazing saga!! The ending was just as perfect as our lovely couple!!
Prepare for a wild ride. Things are not what they seem. When life gets turned upside down and you need a fresh star, we follow Kiera on that journey. From England to the States with a new name and life, only to have flipped upside again. You will love this story and the characters
Lots of spice and action. I love the characters, the constant unexpected events that had my heart racing, and of course the spice!! Definitely intended for mature audiences! I read the Transfusion series first, which should be read after, but it was still awesome to see how it all started!
Loved all in this series of books so many twists and turns. I couldn't put them down. The series it felt like you were part of the story with the details
So good I read it twice! I read this book a second time because I felt like I needed to pay better attention to details I may have missed the first time around. But the main reason I read it again was because it was simply a great story that I could dive into.
As Pip would say … Amazeballz! I literally read all 12 books straight through I was so captivated by your words I wish you would turn this into a movie this was better than twilight and saying a lot since it was standing as my favorite read UNTIL AFTERLIFE!!! You did an amazing job and I look forward to Starting the next story
Do not miss this series. Definitely a must-read now that all the books are out. I was enthralled with this book with the characters and the content.